"La Croix Du Sud"
Listen what it sounded like in the Middle of the Atlantic:
From Inside or From Outside
Availlable on CD!
(requires Windows Media Player)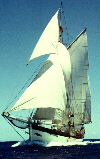 1965, 60' ketch. She was my family's house for a few years in France and took me from Cannes France to Fort Lauderdale in 1983, almost like Christopher Columbus. A wonderful trip that took us about 9 months. Well we stopped all over the place on or voyage, spending a night here and there, or a few days up to 2 month in the Canaries Islands... I have wonderfull memories about this trip and I miss her too.
One of my project is to make a full page with pictures about this trip....

Click Here for more Pictures
To my Little Boat today